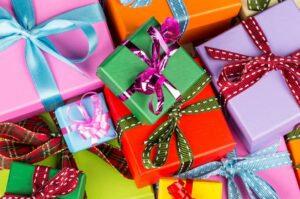 During the holidays, it is typical to give gifts to people we love. This can include partners in an intimate relationship or marriage, of course. Many times I have heard clients say to me, "I don't know what to give my wife/husband/partner!" This statement always makes me sad, because I wonder why we don't know what gift(s) our partner would love to get! How can we not know what makes one another feel joy?
This being said, I also understand the amount of pressure that many feel to "get it right" when it comes to gifts. Rather than being an expression of generosity and love, gifts sometimes are a testing ground for the level of commitment one has in the relationship. Good grief! No wonder anxiety, for many people, spikes during the holidays!
This is why I wanted to write about gifts that rarely disappoint–gifts that offer what is universally desired and wanted, regardless of culture, age, or race. They are gifts that can ensure that all other presents are received with gratitude and appreciation, because the act of gift-giving will no longer be a litmus test for how well one is loved or known.
What are these gifts? Read on…
THE GIFTS THAT NEED NO WRAPPING PAPER: Despite our technological advancement, we are still mammals who require caring in order to thrive. Unfortunately, we live in an economy that convinces us we only need products. If that were true, why is anxiety at such high levels, given that many of us can get any product we want at any time?
What I notice is that many people use products to counteract isolation, loneliness, insecurity, and stress. This works in the short run, but rarely has a lasting effect. But I can understand the appeal when person-to-person caring is either not available or not offered, even when one is in a relationship.
If genuine caring is what we really need to thrive, then what are the key elements? Let's look at four that are important in any loving relationship.
NURTURING: Nurturing is easier than most of us think. It requires more that we simply show up and less that we try to do something.  If you think that nurturing means "making someone feel better", then allow me to suggest an alternative meaning. When we are upset, it is often very hard to feel better, and thinking that we should feel better can make it even worse. Nurturing is not about making someone feel better. Rather, it can be thought of as a way of being present with someone in pain. Not doing anything, just being there. And when someone is in pain, usually the most helpful way to be there is to say, "I am here with you." 
This five-word phrase is what we most want and need to hear when we are hurting and feeling all alone and misunderstood, because it does not require that we be or do anything in return. It does not force us to justify our pain or take care of someone who is caring for us; instead it just lets us know that we are not alone in our pain, and that can be very comforting. It is a way to show your trust in another's emotional intelligence, while showing them that they can trust you to handle what they are feeling. Nurturing is comfort, in the form of presence. "I am here." 
EMPATHY/UNDERSTANDING: Empathy is related to nurturing, but it is not the same thing. It is part of the process though, in that it is what can come from being with someone in their pain–empathy is the experience of feeling, on some level, what the other is feeling. Not just understanding it, but actually feeling it, and holding it. It is the process of seeing the problem from the others' perspective so that we can understand why they are in pain. This understanding gives us the best chance of responding in a way that actually does relieve pain.
I have seen countless couples upset with one another because well-meaning efforts to comfort their partner and respond to their pain land with a thud. This is not because they don't love their partner, but because they don't fully understand what the pain is about–in order to relieve hurting we have to know how and why someone is hurting! The how is found out through an empathetic connection, and the why is uncovered by the understanding that comes from empathy. To be on the receiving end of this is nothing short of the greatest experience of being loved.
INTEREST: The type of interest I am talking about is not the kind you get from your bank, where you get a return on your investment. It is instead the opposite kind of interest–it is a way to invest in your relationship in order to get a return. What is that return? It can be boundless regarding what you get from your partner and what they get from you. The power of interest is that it is the action-based expression of love. It is well and good to tell someone that you love them, but it is an entirely different thing to show it in such a way that they feel loved. 
Many couples talk about their "love languages", and certainly these are good to know about in yourself and in each other.  But the truth is that we don't always express or respond to just one love language, so even if you know them you can miss the mark with your partner–this is where interest fills in the gaps! Interest is fueled by your genuine and caring curiosity about your partner: what makes them tick? What brings joy to their lives? What upsets them? What is their favorite and worst part of themselves? What are their vulnerabilities?
Interest is the means to this end: making sure that your partner feels truly loved by you, not just for what you like or what you see, but for who they are. (To read my previous full post about Interest, please click HERE.)
RESPECT: I saved this one for last, because it is possibly the most important element in caring–you could say that it is the tent-pole element under which all other elements fall–if you respect your partner and their inner world, then nurturing, empathy, understanding,  and interest will more naturally follow.
What is respect? In the simplest terms, it is act of honoring another's differences as valid. Respect does not require that we agree with or even like another's differences, but it does require that we recognize and appreciate them as part of our beloved. Why would we do this? Because this is what real love is–caring about another's well-being not because they are exactly like us or because they make us feel good or sexy, but because their well-being is important to us! This process is ignited by the initial bonding process, but it is cemented into being over time, as the bonding becomes attune-ment.
Respect leads you to real love.. It is not co-dependent to feel joy when you make your partner truly happy, and sometimes this requires catering to differences we don't easily understand. Interest can help foster respect for the ways you and your partner diverge. We often find that the differences are not so different at all–that they are tied to shared needs and values. Certainly there are real and perceived threats that work against this understanding, but if partners allow their interactions, responses, and agreements to be guided by respect, then those threats will not present any real challenge to the relationship.
Respect, in action, will discourage sarcasm, needling, taking things personally, and misunderstanding, and will mutually encourage and strengthen all the elements of caring.
***
The elements described above need to be intentional choices, because our brain is wired to be biased toward suspicion and threats (even if they are not real), and this is where couples often need help in choosing. As a couples therapist, I help couples (and individuals) understand the benefits of taking a stand against threats. It can be very hard to set aside our self-protection in relationship, but by regularly making this choice, and having a partner who can then respond accordingly, we can choose nurturing, empathy/understanding, interest, and respect more often. It becomes easier, the threats feel less threatening, the connection becomes stronger, and the rewards become greater!
These are the best expressions of love we can give to one another during the holidays, and all throughout the year, and they don't require any wrapping. Or perhaps a better way of putting it is that couples therapy is the wrapping paper for these gifts. This is the best gift you can give to one another–it is a way to say this relationship matters to me, it matters enough to work on, and I want to work on it with you.
Who wouldn't want to receive that gift?