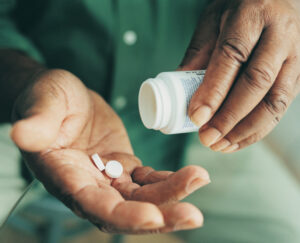 When I think of how to describe the times we are currently living in, I let my clients guide me. And what I am hearing these days is that, when looking around, it is like looking through a clear pane of glass: you see "everyone else", but you also see yourself reflected. This description resonates with me because the key distinction in whether or not one is able to create change in their life is whether or not they are willing to see the world through a pane of glass, or more specifically, how they look in the world.
12-Step meetings have long had attendees recite the following after every meeting:
Grant me the serenity
to accept the things I cannot change,
the courage to change the things I can,
and the wisdom to know the difference.
Why is this mantra repeated time and time again by those who seek change in their own lives? Because in those few lines are the exact instructions of how to change! They also let us know what does not create change, and moving from one state to the other is the point of this article.
How do we change the world? How do we change our world, our relationships, ourselves? Does change require that everyone change? What if I am the only one who changes?
Let's dive in…
WHAT YOU CAN'T CONTROL: Without exception, couples come into my office pointing the finger at one another, inviting me to side with them and agree that the other is the problem. "If only my partner would change, things would be better!" In order to connect the couple, I first need to see if they are willing to be a team, working against the problem instead of each other.
I start with this task because I have learned that we cannot make anyone change, we can only influence them to change. The other side of that is coin is allowing ourselves to be influenced to change by our partners. Both of these ideas help us with the first part of the serenity mantra: "Grant me the serenity to accept the things I cannot change".
This is easier said than done! But it is doable, and is the only way I know of to move your life and relationships from where they is to where you want them to be.
Why are we so committed to trying to change what we cannot control? Because it feels easier than taking a good hard look at ourselves, and our contribution to the problem(s). I remember years ago when I wanted to move out of Los Angeles because I thought that everyone here was horrible, and my best friend had the courage to ask me, "What if it is you?" I was furious with him at the time, but soon realized that while it was not only me, it was certainly partly me that was making my time here so difficult. Over time I succeeded in changing the way I respond to and think about the city (both under my control), and my outward experience of it changed for the better. I focused on what I had the power to control.
WHAT YOU CAN CONTROL: What we can control is a lot, truthfully, but it does take work. You know this if you have ever fallen for an easy weight loss system–the ones that promise that you can "eat like normal" on their program and still lose weight. While you may lose some pounds, they rarely stay off after stopping the program because what has not changed is how you eat and why you eat, which are key determinants of our weight.
It is much harder to look at the underlying negative thoughts that fuel our need to comfort ourselves with food, because this may mean facing problematic and painful relationships from our past. However, doing this work with a caring witness (such as a therapist), can result in lasting change and freedom from negative thinking. These things are under our control.
In short, we have control over our responses. This aligns with the second part of the serenity mantra: "the courage to change the things I can". It does take courage to do this, because it can be painful and frightening, but the reward can be worth it. Taking control over our responses includes changing the way we interpret and think about things, which in turn affects how we feel about things. In other words, our response to what is happening. And when we change our response, we then have the power to influence others to change.
This is the magic pill. 
THE MAGIC PILL: The third part of the serenity mantra asks for "the wisdom to know the difference", and that is no small ask! Knowing the difference between what we can and can't control is not only the magic pill for change, but also the key to avoiding suffering. Focusing on what we can control can interrupt complaining and give us the power to take action, and action is what brings about change. This change does not always happen to everyone involved. I tell my couples clients that if you change as an individual in relationship, one of two things will happen: either your partner will adjust to the change or they will leave you. Either way, movement has occurred, which is often better than remaining stuck in a painful rut!
The bad news about action is that it difficult to do something different, and there are no guarantees that the outcome will match your preferences. The good news is that we can still choose to take it, even if it is hard, and be open to the result, knowing that we can always choose again. Sometimes, we might need a little extra support with this, either from others or even from medication, especially if we are strongly affected by either depression or anxiety (both can lead to inaction).
Action can take two forms: external or internal, and both are valid. External action is when we make adjustments to our behavior or response, or when we stop accepting invitations to fights or dysfunctional patterns. Internal action is when we change how we think about what is going on, often allowing us to move from victim to survivor (responsive rather than reactive). Victor Frankel writes about this in his important book, Man's Search For Meaning, where changing his mind, or internal action, literally saved his life.
***
A body in motion wants to stay in motion, while a body at rest wants to stay at rest. In other words, taking action from a state of inaction is difficult–but it is not impossible–it just takes a force to get it going. As a culture, many have become very comfortable, which is not a bad thing, but it has deterred us at times from taking necessary risks or making uncomfortable choices. Just because action is a magic pill does not mean it is easy to swallow. What helps it go down is support from others, and having a clear idea of who we would rather be in relationship to the ourselves and others.
With individuals, therapy can help to identify and confront ways of thinking that contribute to unhealthy choices. Changing the way you think can positively shift the way you experience what is going on around you. With couples, I encourage them to support each other by sharing the changes they are embracing themselves while acknowledging and appreciating the changes we see in the other. This is what working as a team looks like, and it can change your relationship into a refuge rather than a battleground. I know of no other way that gets you closer to a life of peace and love.