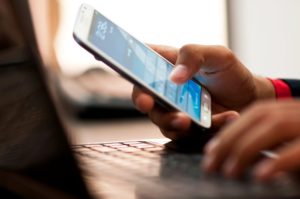 I have written previously about how to grow your communication skills. In this post I want to key you in on what can interfere with the implementation of these skills. In order to succeed at anything, you have to know what the obstacles might be!
Have you noticed–some thing just never change! Despite the advances in technology, humans are still, well, human animals, with newer and older operating systems running our brains. One area where we have advanced technologically at a rate not met by our physiological and developmental advancement is communication. Technology is not ideal for all purposes–sometimes the best method is old-school!
In this article I briefly look at "texting" as something that, if used ineffectively, can cause serious damage to relationship communication. While I have no issue with the use of texting per se, I do think that certain communications still need to be done face to face.
So let's take a look at the guidelines…
USE TEXTING FOR THIS: There was a joke a while back that pretended that texting was not the only way to communicate–that there was this new wonderful thing called "talking"! As silly as that is, if you think about it, it could make sense. Texting in itself is a weak way to communicate because it keeps us from getting vital information that is relayed by tone of voice, facial expression, body language, etc. It would seem as though talking to one another, even on the phone, would be an advancement. So then why don't people do it much anymore? I think that the answer is convenience.
Texting is a great way to do information exchange. Things such as where to meet, when to meet, changes to plans, or requests for information are easily communicated using texting. But that is about it! The reason why texting works for these things is because they consist of information, or content, and not emotion, or process, and also the communication is interactional. If you check into why emojis were created, you will find out that they were an attempt to insert emotion into text. They do accomplish this, but in a very limited way. One person's smiley face is not necessarily another's. Texting works best for simple exchanges of information.
DON'T USE TEXTING FOR THIS: Relationships get into trouble when they extend texting outside the boundary of information exchange. Granted, there are benefits to sending a partner sweet nothings, such as "I love you", or "Thinking about you", but trouble happens when upset or anger is communicated using texts. The reason for this, based on what I have heard in my office, is that there are so many chances for misinterpretation. Also, any conversation about feelings is doomed if it is interactional–this is why they are best done face to face where a talker can be a talker and a listener a listener.
When we listen in person to someone who is upset, we hear not only the anger, but often also the pain. This experience of their pain can serve to kickstart empathy in us; we can avoid defending ourselves and respond to what is being said. In texting, we usually just see the anger, and couples have reported responding in the expected ways: with counter-attack or defensiveness. It doesn't work if your goal is to resolve conflict and build intimacy, trust, and closeness! This is why I suggest that once you feel yourself getting upset at what you are reading (OR sending), STOP TEXTING, and instead either call the person or arrange to continue the discussion when you can meet in person.
Avoid using text when discussing a conflict or disagreement, or when you are agitated, angry, or very upset. The best thing to do in these cases is to let another know that you would like to talk by phone or face to face as soon as possible.
HOW TO RESPOND IF SOMEONE BREAKS THESE RULES: I always remind my couples clients that there will be times when they do not make the best choices in their relationships. I even remind them that I don't always adhere to what I know works well! As my teachers have told me, it is not so important what happens, but what you do about it afterwards that makes all the difference.
If you find that you and another have had a bad text exchange with insults and misunderstandings, wait a bit until you cool down. Then reach out to this person and ask if you can meet or talk on the phone to discuss what happened. Use the skills I shared about communication to talk about how you feel and be curious about how this affected the other. Apologies only work if the one offering has a felt sense of how hurt the other feels.