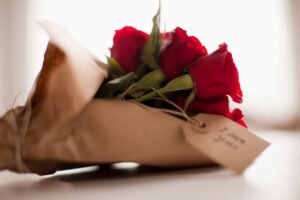 February is a month that one either dreads or dreads more, from what I hear–and yet it does not have to be so! I notice that the dread affects both those who are in relationships and those who are not–with just slight differences:
dread for those in relationship can include anxiety
dread for those who are single can include depression
The source of this dread just one day in the month–you guessed it–February 14th, Valentine's Day. What is currently an opportunity to celebrate love and romance has turned into a day where love is often tested and romance is bought.
But it does not have to be this way.
The power we have as humans is the ability to make choices that align with our values–regardless of what others are doing! This includes our choices about love, sex, dating, and romance.
In this Special February Issue, we will take a look specifically at romance, and how to make choices about it that work–meaning less dread, anxiety, and depression–leaving you to experience more fun and love.
THE BITTER TRUTH ABOUT ROMANCE: Here is what needs to be understood about romance: it was never intended to be mixed up with love. There are many theories of where romantic love began. In Medieval times, for example, it was something of a social ritual that bolstered the public status of those involved–who most often were not in an actual relationship with each other! Romantic love was more of an ideal to pursue for personal and social gain, not something to actually achieve–it was a motivational tool of sorts!
Over time, as marriage became an act of choice for many, "dating" began and romance became the primary fuel for relationship building. This would have been fine except for one problematic influence from previous times: people equated feelings of romance with actual love. Rather than differentiating passion, or sexual chemistry, from real love, modern dating culture fused them, resulting in a misunderstanding of what we feel towards our object(s) of desire.
THE BIGGEST MISTAKE: Have you ever eaten a slice of chocolate cake? If you have, and you liked it, then you will remember how you were able to enjoy it even while knowing that it had nearly zero nutritional value. And yet despite this ability to reason intelligently about what we enjoy, we regularly abandon reason to experience infatuation with someone, thinking we are "in love". Just as chocolate cake is not broccoli, infatuation is not love!
The distinction between initial passion and time-developed love does not have to be bad news. Just as you can enjoy chocolate cake while recognizing it has zero nutritional value, you can enjoy infatuation (and the romantic feelings that come with it) without thinking that it is love (yet). In fact, if you do so, you may enjoy it more because there will be less anxiety about it.
So why isn't romance love? Because it is based on an ideal rather than a reality. Romance is about the one feeling it–how it makes them feel interesting, sexy, young, and alive. It is about perfection and fantasy. It is not about the other person–the other is just the catalyst for feelings that make us feel better about ourselves.
On the other hand, real love is about the other person, not about you! Romance during infatuation is about bonding and attachment–real processes that brings people together–but they are not love. Love takes time to form because it cannot happen until there is an empathetic and caring understanding of the other person and an interest in their inner emotional world.
The biggest mistake one can make when seeking love is to assume that if you feel romantic toward someone, you are "in" love. This assumption will actually prevent you from moving toward real love, because romance has you see the other as you want them to be, instead of as they are. Preferably, romance is an ingredient of loving relationships, not the container. So how do you make it work well?
HOW TO MAKE ROMANCE WORK: Let's go back to the chocolate cake for a minute. Remember that there is nothing wrong with enjoying cake, as long as you don't kid yourself into thinking you are eating broccoli. This is how you make romance work for your relationships. You enjoy it for what it is, and not for what it isn't. 
Many people think that romance is something you either feel or don't feel–but actually it is something that we can (and often do) choose to feel toward another. Just because you choose to feel it does not mean that it is not authentic. And in relationships of a year or more, choosing romance is a smart decision because the closer you get intimately, the less romantic you may feel towards each other–the elements that fuel intimacy and romance are oppositional.
So you make romance work by choosing it and then allowing the brain and body to follow your intention. Why do so many suggestions for building romance include soft lighting, sexy music, and candles? Because that helps put us in a romantic mood–you are setting the stage for romance! This seemed to be the idea behind Valentine's Day at one time, but somewhere along the way romance became an expectation of love rather than a desired and chosen effect of it.  Romance is an element of love, not the proof of love.
***
Just as you would never dream of eating only chocolate cake (or would you?), you would not want a relationship to only be romance–that won't get you very far. At some point, all our partners will "let us down"–they'll get sick or have a blemish, they get impatient with us or become depressed. This is all part of life, and it is not very romantic. But as a team you can both choose romance whenever you want to experience it together, in the same way you can choose to have a slice of cake when you desire something sweet.
It's great when romance comes "naturally", but when it doesn't, chosen romance is still romantic. Why not take advantage of both options?