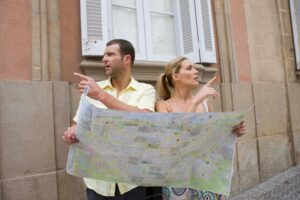 I was recently blown away while watching the limited HULU series Fleishman Is In Trouble. Beyond the terrific script and fantastic acting, the premise of the show appealed to me because it explored marriage. The marriages depicted in the series were not what one would call "good marriages", though they had their positive points. They were instead quite problematic, not because the spouses were ill-matched, but because they lost track of their intention for getting married in the first place.
All of the main characters have a moment in the series where they ask themselves: "How did I get here?", as though some unseen force has had control over the path their lives have taken. Truth is, that is how life can feel sometimes, right? We can easily be pulled into the busy-ness of our daily routines: working, raising a family, running a home; and marriages can suffer as they drop down our list of priorities.
The good news is that this is not how it has to go. But in order to avoid this outcome, each individual in a relationship has to take some action to make sure they are not going down an unintended road. In this article, I look at a few ways that can be useful in charting a course in your marriage or relationship so that you don't one day find yourself asking, "How did I get here?"
MAKE A PLAN: If you have ever owned or run a business, it is hard to imagine doing so successfully without some sort of "mission statement". A mission statement gives a company direction, so that they can regularly check if they are headed where they want to go–if they are up to what they want to be up to. There are many elements that can make up mission statements, but I want to focus on three that are key to not just businesses, but also interpersonal relationships: purpose, vision, and values.  
If all you did was discuss these three elements with your partner, you would still be ahead of many couples who get married only for the reason that they "are in love". Being in love has an end date–it is designed that way because it's purpose is to bond two people together–it is not sustainable as a long-term state of being. (For those of you who disagree with me and feel that you are still "in love" in your long-term relationship–great! I am speaking specifically about the "symbiosis" or early bonding stage.)
(For more on why the being in love stage cannot last, you can read THIS)
Shared purpose ensures that you have an intention for being together that will motivate you to put in effort; shared vision gives you a future to aspire to both as a couple and as individuals; and shared values keep you connected when struggling with differences that threaten the relationship. While these elements may not feel important in the early stages, that is precisely the time when they are essential to building a solid foundation between the two of you–a foundation that can withstand some shaking!
The Gottman Institute has a concept they call the Sound Relationship House, that suggests that the "getting to know one another" stage is where couples lay the support for difficult times. But getting to know each other has to include understanding each other's inner worlds more than their outer interests–because this information will let you know where their triggers and sensitivities lie. Without this knowledge, couples tend to react to one another in conflict rather than respond, causing disconnection, distrust, and resentments. So build your foundation!
CHECK IN AND ADJUST AS NEEDED: Continuing with our building metaphor, nobody questions homeowners who do regular maintenance in order to keep their house standing strong. Relationships can greatly benefit from similar levels of routine assessment–just check in! Walls in a home can "settle" over time, and in a relationship, the walls that hold it together can also settle or get weak. Agreements made ten years ago don't necessarily apply to who you are today–successful relationships make adjustments over time to better accommodate the both individuals and the relationship.
But how can couples today, who have to check in on so many things, keep their relationships the top priority? The answer is simple: be mindful. Pay attention to yourself and to each other and you stand a chance of noticing when cracks in the walls appear. Mindfulness is not just for individual well-being, it also promotes relationship well-being by using attention, gratitude, and curiosity to maintain vitality in your shared life. Time goes slower, in a good way, when we are paying attention to what is happening in the moment.  Though we can't do this 24/7, we can have the intention to return to the moment whenever we notice that we have left it. 
For couples who work with me, I like to offer practical and realistic ways to embrace these ideas so they can turn into action. A simple way to do this, though it may take discipline to put into rotation, is to have a regularly scheduled "state of the union" talk with each other where the phones are off and you are both showing up for each other, willingly and by agreement. What do you talk about in these check-ins? Here are some suggestions:
start with appreciations for the "little things" you may have noticed
talk about current "turn-ons" and "turn-offs", not just sexually but also life in general
discuss any unresolved conflicts that need to be revisited
share your dreams with each other
make a plan regarding new and upcoming stressors so they don't throw you off track
share new self-discoveries with each other, both those about yourself and those you have noticed about your partner
review agreements that are not working well and adjust if needed
end with appreciation for taking this time together
I guarantee that if you regularly have these talks in your relationship, which can be done in 15-20 minutes when you got it down, you will be less likely to find yourself one day asking the question: "How did we get here?"
USE "THE GAUGE": When you are doing routine maintenance on your car, you may notice that it "runs smoothly", and you don't have to feel anxious every time you drive it. While car warning systems help us out when it comes to letting us know about problems, relationships don't come with indicator lights that tell us something needs attention. So what can we use as a gauge to make sure that our relationships run smoothly?
Painful experiences don't always mean that something is wrong, so we need a more accurate measure of relationship health than whether we are happy or sad. I have found one gauge that works every time, as long as it is co-created and maintained by both individuals, and that is your relationship vision.
Your relationship vision is the answer to the question: "Why are you together?" Couples who exist based only on the fact that were attracted to each other may find their foundation struggling to withstand the shaking of a conflict. A vision of your life together, your purpose for marrying (if you are married), is the "mission statement" that motivates couples to work through differences and hurt feelings. So when you find yourself "not feeling yourself" in your relationship, you can ask, "Am I still moving towards our vision?"
When you regularly check in with each other, amidst the busy-ness of life and family and work, imagine you are "checking the map" on your journey  to make sure you are headed in the direction you both want to go. It's the couples who get caught up in other things at the cost of each other who may one day find themselves asking "How did we get here?"
***
A couple's shared vision does not have to be grandiose or earth-shifting, in fact it works better if it is not, and is instead reachable, meaningful, and personal. Here are some examples of how elegant and simple a shared vision can be:
to raise a family
to make a home together
to become a part of a community (religious, cultural, etc.)
to build a stable, secure life
to share a creative journey
And my personal favorite:
to become the best versions of ourselves
People don't end relationships because they fall out of love with one another, they end them because they don't like who they have become–definitely not a better version of themselves! By using your shared vision as a gauge, you will  keep yourselves on track, even if that includes minor detours or side trips along the way (not every journey needs to be a straight line!).
The good news is that a shared vision can change over time, as a couple's values change and grow. The vision is an extension of your values, which are an expression of what is most important to you–what matters.
I suggest that you do brief check-ins at least a couple times a month, and you can ask any or all of these questions:
How are we doing?
How are you doing?
How do we feel about our relationship?
Is there anything getting in our way right now?"
By committing to this act of mindfulness, you will be on the road to a life that nourishes you both and helps keep you going despite the occasional (and inevitable) potholes, so that one day you can look at each other and declare: "We know exactly how we got here!"