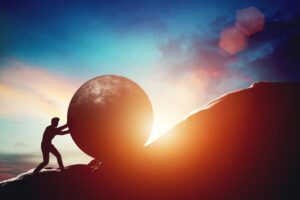 Have you ever spoken with someone who has just given birth? Often, you will hear them swear that they will never get pregnant again. But the reality is that most do repeat the experience–more than just once! Perhaps one reason for this is that the pain and suffering of giving birth and having an infant are temporary, with rewards that may increase as time goes on. We don't mind a little suffering if there is a reward for it down the line!
So what is the story regarding relationships? 
Well, on paper they look amazing. We are drawn to them because they offer safety, security, acceptance, love, sex, family, community, meaning, and more. Like babies, we love them when we see them out in the world, but the reality of having one in your home 24/7 is a whole different story. 
And yet we keep seeking them out, and getting into them, only to find out that once we move through the limerence phase, they get difficult. Why do they become so difficult? Why can't they continue to feel like floating on clouds? The answer to this is complex and differs somewhat from person to person, but I hope in this article to give you an understanding of the process that can cause distress but, when handled well, also lead to "real love". 
WHAT WE DO WHEN THREATENED IS NATURAL, BUT IT ALSO CAUSES DISCONNECTION: Our brains are wired to scan the environment for threats–that is how we have survived over the years. As mammals, we have very few ways to protect ourselves from threats–no claws, no fangs, and soft bellies that are exposed dues to our upright stance. We are not even very fast or strong! So we evolved to have large brains to help us outwit predators and avoid dangerous situations. 
It worked pretty well until we got into "modern" relationships, where our "safe person" can also be our greatest threat at times. When this happens, our hunter-gatherer brains can't tell the difference between a real threat and a perceived threat, and reacts by shutting down rational thought and activating our fight, flight, or freeze response. 
While this response protected us in the past, in modern relationships it creates a separation from our partner(s), due to the fact that when we are in this dysregulated state, we cannot learn or listen, and our primary goal is self-protection. The result is disconnection. Closeness, the feeling of being understood and cared for, is out of reach, and this is why our natural responses to threats generally do not work in relationship. This is an unfortunate state of affairs, since closeness is often reached by having difficult conversations or healthy conflict. 
VULNERABILITIES AND TRAUMA ARE TRIGGERED: Why does our defense system get triggered so strongly by our partners? Why does something that protects us from harm also create disconnection? This is not some cosmic joke on people who are in relationships. It is instead just an unexpected outcome of being in a modern form of relationship. Let's look at what happens.
In our hunter-gatherer past, we were in relationship with many people, and our needs were spread among the group. Our safety, security, and sense of belonging was not reliant on just one person, but instead tied to many. Because of this, a conflict with one individual was likely less threatening–we did not feel as though we were in great danger. 
Today, the majority of our needs and wants, our requirements for safety and security, and our sense of belonging, are all tied to one primary partner. (To read more about this idea, please check out Esther Perel's excellent article: Why Modern Love is So Damn Hard). A relational breach, even a small one, can present an enormous sense of threat to our stability and well-being. We can feel as though the conflict will leave us untethered to our anchor, to drift alone and unprotected.
What exactly is the source of this feeling of unsafety? Our vulnerabilities are exposed. Regardless of whether we are attacked, or doing the attacking ourselves, we become hyperaware of our vulnerabilities in the moment and move to protect them. This is one process that makes relationship so hard; in order to have healthy conflict that results in greater closeness, it is required that we talk about the vulnerability that has been triggered by another, so that other can then respond to us.
What we usually do instead of talking about what is coming up for us is criticize the other, which only pushes them away. And when we are criticized or attacked, instead of probing to find out what is underneath the anger, we often get defensive, essentially walling off our compassionate selves from our partner.  
This is compounded when there are negative memories in the past that we experienced as traumatic, because our instinct to attack and defend are heightened, and the trigger-wires for each is much shorter. Trauma also takes us out of the moment and back to the past event, making us unable to respond with interest, caring, and empathy. If we are unaware that trauma is even being triggered, guilt and shame can be added to the mix of negative emotions, further pulling us out of the conversation and away from our partner. 
***
The takeaway from this section is that when our vulnerabilities and traumas are triggered in relationship, if we don't know how to talk about what we are feeling in the moment, any conversation with our partner, if we have one, is going to be much more difficult. 
YOU ARE DIFFERENT FROM YOUR PARTNER: The final aspect of relationship to be considered in this article is how our differences make being with someone harder. Why do differences create difficulty? Mostly because they do not show themselves in the beginning stage of a relationship! And if they do show up, our brain has a tendency to minimize them since its one goal is to bond with the other. 
The reality is that every partner you have will be different from you in both big and small ways. The challenge comes with deciding, once the differences show up, how to respond to them. There are three main ways of responding that I want to highlight in this article:
Criticizing the difference by judging it.
Saying nothing about how it bothers you and building up silent resentments.
Showing curiosity about the difference, then deciding if that is something you can live with (accept). 
Only one of the above actually works to bring couples closer–can you guess which one? If you guessed #3, then you are correct! And yet this is the response that rarely gets practiced, and this is why differences, despite their inevitability, make relationships hard. 
Why are differences in our partners threatening to us? Our brains are wired to detect potential threats or dangers in the environment, and back in the hunter-gatherer days, someone who was "different" could be an enemy from another tribe or group. Noticing differences allowed us to assess our level of safety, letting us proceed with caution and keeping us from giving our trust to another prematurely. 
Our brain wiring has not changed as much as our culture and our way of being in relationship, so it is important to find a way to "bypass" our natural defenses at times when they are activated.  Otherwise we will seek to distance ourselves at the very moment when we need connection and closeness. Relationships are hard because our brains often tell us to do something that damages the connection. 
Understanding this is critical to making a choice against your natural instincts, and towards your relationship. 
***
So is there good news? Yes! The good news is that even though our brains work against our relationship goals sometimes, they also give us the ability to choose a healthier option. This takes practice and teamwork, and is dependent on the couples' commitment to a mutually shared relationship vision. But it is doable. And in my opinion, the work is worth it. 
Relationships may be the hardest thing you will ever do, but the rewards, when you do the work together, are life-changing, liberating, and empowering.