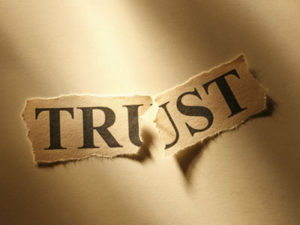 Of all the issues that bring couples into therapy, cheating seems to be in the top five. Despite the frequency with which it happens, it seems that relationships are not prepared to respond when it does. Contributing to this lack of preparedness is the widely held belief that "It could not happen to us." What is going on here? Is this a case of simple denial that we have the tendency to stray, or is there an element of human sexuality and relationship that we don't know enough about?
No one will argue that cheating destroys trust. Less subject to agreement is what exactly constitutes cheating. Defining it is not so simple, because to do so requires taking into account culture, generational trends, gender, value systems, and more. Cheating is not just the act of having sex with someone outside your relationship; the parameters change all the time, so the definition is fluid. But despite evolving mores and influences, there are consistent qualities running underneath all the definitions that can help us to make choices about what works for our relationships.
Let's take a look at what those consistencies are, whether cheating can be prevented, and if a relationship can be repaired once cheating occurs. But first I want to explore why there is so much confusion around cheating, and how to lessen that.
DO YOU HAVE AGREEMENTS?  When a couple comes in to my office because of an infidelity, I always ask what their agreements are concerning sexual/emotional needs being met inside and outside the relationship. You know what I usually hear? They have none! If they do have an agreement, it is usually not of their making–instead it is the "implicit" rule of marriage/commitment that states that you will only have sex with your partner for the duration of your time together. In other words, instead of agreements, they have assumptions.
These assumptions would be just fine–if they worked. Sadly, they rarely do, or else everyone pretends that they do. Now there are couples who successfully remain sexually monogamous to each other, but often they are supported in this commitment by their religion or culture. This does not mean that they don't struggle privately with the commitment, but often their private doubts are overruled and pushed aside by their public beliefs. But with so many younger couples moving away from their religion and culture, where is the support for their relationship commitments?
Support needs to come primarily from within the relationship in the form of agreements. Agreements can change over time (and will!), but I find them absolutely necessary and helpful in making sure that partners walk a parellel path together. What issues might they benefit from discussing in order to form agreements around sexual fidelity?
Whether sex outside the relationship is allowed (and what constitues "sex")
If masturbation is okay at home, either with or without the partner
Flirting/Having crushes on others–is that okay?
The role of porn either alone or together
Online activity: chatting with others randomly vs. having a regular communication with someone
Needs that are not being met by the other, sexually and emotionally; needs that we want the other to meet
Frequency of sex together/making time for it/satisfaction levels
Fantasies, new interests and curiosities
As you can see, there a lots of things to talk about that often are never talked about until they cause trouble. Why wait until then? Now let's look at what cheating actually is.
WHAT IS CHEATING?  If you ask the average person on the street what cheating is, they might answer that it is having sex with someone other than your partner. This is true if sex with others is not part of the agreements, but that does not mean that that is all there is to cheating. But since this is the most common betrayal, let's explore what makes sex with others cheating? It depends on how you define it. I define cheating as any action of intentionally breaking the relationship agreements in a deceptive or secretive way.
The key words in this definition are: intentionally, deceptive, and secretive, and to answer the question I posed at the beginning of this article, they are the consistent qualities behind every act of cheating. This definition, you may notice, does not specify an action–so cheating could be sex with others, and it could also be chatting online or watching porn alone–it all depends on what the agreements specify. This is why having them in place is so important!
Intentionality holds so much weight because any actions that come from it are either for or against the relationship. The Gottmans like to say that we are always leaning in or leaning out of the relationship. Intentional actions that lean out of the relationship aren't necessarily cheating, but cheating is always leaning out of the relationship. Similarly, deception and secrecy are actions that lean out, not in. If you have ever been with someone who deceived you, you will need no convincing of this!
Deception and secrecy, when they are intentional and meant to hide the fact that an agreement has been broken, are betrayals that are difficult to repair, but it can be done with the help of a skilled couples therapist.  Let's explore what the repair might look like.
CAN IT BE REPAIRED?  Repair is not all I do for relationships where betrayal is present, rather it is just one approach. Often, repair is not possible, and the couple has to explore starting from scratch. This is work, but it can also be more invigorating than it sounds! Many times, relationships have long ceased to be "alive", and starting fresh can literally feel as though you are in a new relationship. Whether you want to repair or restart, willingness on both sides is essential. If one partner is not at least willing, the process will be a bumpy road that leads to a dead end.
Regardless of whether the intention is to repair or restart the relationship, it is important to first address the "betrayal" itself, and the effect that it has had on the one who was betrayed. Couples therapy cannot progress until this is attended to, because the hurt feelings will sabotage the work. Apologies are not the answer here–what is needed is an empathic understanding of how the betrayed feels. This can be difficult and painful work, but without it the wound will fester and infect the entire relationship. An apology cannot be issued until there is full understanding by the betrayer of how the betrayal affected their partner. Any attempts to apologize before that will come up empty and only increase resentments.
Once this step is accomplished, the couple can talk to each other to understand how the problem appeared (a shared description), and how it worked to push them away from each other and into betrayal. These conversations are best done with the guidance of a skilled therapist so that defensiveness and criticism don't derail attempts to understand each other. With perserverance and intent, a couple can emerge on the other side of cheating into a more respectful and loving version of relationship. Couples who stick with this work report having better marriages–more honest and caring, with less taking each other for granted.
CAN IT BE PREVENTED?  Ideally, cheating will never happen, but there are no guarantees in any relationship. Nevertheless, there are ways to prevent cheating for the most part, and the good news is that these actions are fun and will bring you closer together. What can you do to keep cheating out of your marriage?
Don't just have sex–TALK about sex. Discuss satisfaction levels by focusing on what is working well and making requests for what might make it work better. Instead of telling your partner what you don't like, guide them toward what you do like–help them to get to know your sexual body and your erotic self. Remember, anything goes behind closed doors–as long as there is shared consent.
Have discussions about what your agreements are, and check in to see how they are working. Be frank–let your partner know if you are bothered by anything from porn viewing to phone use–but talk about how it bothers you rather than criticizing or judging the person doing it. Ask questions if you need to understand what you don't understand or are not familiar with. That leads us to the next tip…
Be curious! The moment you assume that you know everything about each other is the moment the relationship stalls–make space for new interests and fantasies to be introduced, and accept that your partner is going to change, just like you are. Replace judgement with curiousity and you will improve your marriage immediately.
Admit that you will each be attracted to others, and that you may even want to have sex with others. This does not mean that you have to act on these feelings, if your agreement is that you don't but pretending that it won't happen is a surefire way to "tempt the devil", as they say! Just because you find another attractive does not mean that you no longer find your partner attractive–it just means that you are alive!
Don't get bored with yourself. Cheating is often a quick fix for feeling dull, unattractive, and bored–if you don't work to feel good about yourself, how do you expect your partner to feel good about you? This is not just about working out at the gym, but also about trying new things, exploring your interests, challenging yourself, making a game out of "routines".
Be loving to each other every day. The Gottmans are known for emphasizing the importance of positive interactions, especially during conflict–they say they are essential to having a strong healthy relationship. Loving actions can be small or large, it doesn't matter, but the key is that they come from love–you want your partner to feel cared for by you. It does not take much, but the payoff is tremendous. Loving actions and words pave your relationship road with trust and closeness so that you can have those challenging discussions more easily.
Be respectful! This last tip could be the headline for all the others, since respect ensures that you remain interested and don't run the risk of "missing" one another. Respect will motivate you to cherish who your partner is, who they are becoming, and who they have been, and respect will have you cherish these same qualities in yourself. Respect will discourage you from judging how you are different, recognizing that "being right" is one way to lean out of the marriage. Loving another person is not easy–honor the one who chooses to love you, and you won't need to cheat. What you will do instead is talk and listen to each other, and adjust your agreements to better suit who you currently are both together and individually. This is respect, and in my opinion it is more important to keeping a relationship together than love.
Remember that cheating is not just about sex–that it is a betrayal of shared agreements and an act of disrespect toward your partner and yourself. And it doesn't "just happen". If cheating happens, you can use it as a sign that something is not being attended to between you–or you can make the other the villian and give up. Cheating is not the ultimate betrayal, it is just one form of betrayal, and it could be seen as a symptom of a shared problem. This does not let the cheater off the hook, it just keeps them from being strung up on the hook for life–a mature marriage will process the hurt and betrayal, and work together to unearth the problematic shared dynamic.
It is sad to see an otherwise good relationship end because of one instance of infidelity. It is time to reconsider how we think about love, sex, and marraige, and I am not the only one saying this. Love is not enough to keep someone from cheating on you. Love is just one element in the complex mix that makes up a relationship.  By attending to all the elements, you stand a better chance of being in a living, secure partnership–one where the love is earned and cherished and not just based on fantasy. Trust me, the effort is worth it!