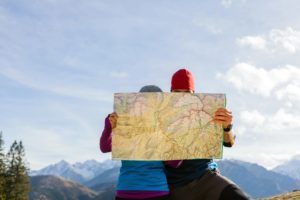 I recently spent a couple of weeks in Europe visiting ancient sites and eating wonderful food. This trip was special, as I don't usually travel outside of California, so I really got a chance to see and do things that I don't normally do. Since it is summer, you might have had a similar experience with your own travel adventures lately–and you may have even chosen your destination with "doing something different" as the goal.
My trip got me thinking about travel, both without and within, and as a couples therapist I could not help but wonder how the idea of "travel" might apply to the work I do. Many couples go on vacation together, but I know just as many who purposely go on separate vacations without their partners (including myself)! This used to puzzle me–but I get it now–we need to nurture the individual. I also started to think more about how we can move around without actually going anywhere–traveling within the relationship. And I thought I would share my thoughts about this as we enjoy the summer vacation season.
What does it mean to travel within the relationship, and what is the purpose of doing so?
TRAVELING TO GET AWAY: Most people think of traveling as a chance to "get away" from our lives for a spell–away from work, home, and the daily routine. I like to think of it as a chance to get away from ourselves, at least as much as that is possible. Wanting to get away from oneself does not mean that we don't like who we are–I am referring to it in the context of wanting a different experience of ourselves than the usual.
Is it okay to want a different experience of ourselves in our relationships? Of course it is! Part of my work is helping couples talk to each other about how they are developing independent of the other: changing, growing, and learning. This is often an uncomfortable conversation, as people are worried they will be judged or rejected by their partners if they change. I help with the understanding and acceptance of this, because if there is one thing we can all count on, it is that change is inevitable!
Traveling to get away within a relationship is not something to be afraid of, as long as it benefits both the individual and the relationship. For example, let's say that one partner decides to take a dance class on their own in order to explore something that has always interested them. This example of "traveling away" can be great for a couple if the goal is to a) create some healthy distance in the relationship; b) get excited about yourself in a new way; and c) bring the excitement of a new experience back home. You might find that if you support your partner's individual explorations, you will never get "bored" with who they are. Besides, spending time away from each other gives you space to miss and appreciate each other!
TRAVELING TO GET PERSPECTIVE: Esther Perel has written a lot about how healthy distance elevates passion and interest in relationships. I would like to add that it also gives perspective. Perspective is valuable because it can change how we feel. When couples spend too much time together or share every activity, it can result in staleness. Some couples can be together a lot and thrive, but that is usually because they are extremely well-differentiated, so they retain their one-ness despite living in the two-ness!
Getting a new perspective applies both to how we see our partners and how we see ourselves. There is an exercise for couples where one of them goes to a bar alone and interacts with others, and then the partner comes in later and watches the interactions from a distance before joining the "game". For extra fun, I will have the joining partner compete with others for their partner's attention! I will often hear that excitement levels were high, and the joining partner "forgot" how attractive their partner is until they saw others interacting with them. This experiment incorporates the concepts of "risk and the forbidden", which are two of the key elements of passion. Of course, I am talking about taking a risk, not being reckless!
TRAVELING WITHIN: We can get bored with ourselves at times, too! Daily life can feel like a routine with little change, and many of the tasks we do we are only "half-conscious" for, because they don't require our full attention. I like the "Zen" way of thinking that says if we can't be see value in the process, how can we see value in the reward?
Traveling within a relationship is a way to "refresh" yourself, to bring new energy and attention to days that seems just like the ones that have come before. This "traveling" is often done internally–through meditation, journaling, quiet contemplation, therapy, time in nature–where we can be in communication with ourselves and our intentions. I teach partners how to help each other travel within by asking questions about their inner emotional world. Being curious about the other can stimulate curiosity about ourselves, leading to discoveries we were not previously aware of. In a way, we are constantly traveling within, we are just not aware of it!
***
At the end of my recent travels, I was ready to come home, and excited to get back into "my life" here. I don't travel to "get away" from my life, so I always look forward to coming back, but I do enjoy having a new experience and a new perspective. I find that these experiences resonate within me long after the vacation is over.
I encourage you to try out some travel this summer, whether it is around the world, around the block, or within. You might find that it creates changes in small but wonderful ways. We all need a break, even from what and who we love! See what traveling within relationship can do for you–you really don't have to go too far at all.