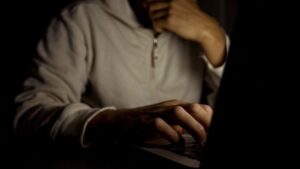 We all have ways to "get through the day", don't we? But I notice that some coping behaviors are more acceptable in relationships than others. One that seems to cause problems on a regular basis is the use of pornography.
I chose to write about porn, finally, because the topic comes up almost universally at some point in couples work. Why is it such a divisive issue? Why is it often seen as a form of betrayal, or a sign that one's attraction for their spouse has decreased or disappeared, when other individual interests don't trigger these reactions?
Porn, like many things tied to human sexuality, can be misunderstood and simplified, but it is my opinion that the use of it represents a lot more than just "a way to get off". Not that there is anything wrong with that! I just think that it is more likely that porn, like many coping mechanisms, is often a salve for unmet emotional needs by being an outlet for our fantasy lives.  The fantasy is just the vehicle, though, not the final destination. In other words, porn is a means, not an end in itself. 
This should be reassuring to those who see porn as a threat to their relationship's sex life, since it suggests that porn is not actually a substitute for sex!
What needs, then, might porn be helping the viewer attend to? And why is sexual fantasy an effective way to do this? How can the threat of porn be dismantled in relationships and instead embraced and accepted as an individual or joint exercise toward relational satisfaction and individual development? How can we embrace porn viewing as a healthy means to an end? 
WHERE IT CAME FROM AND WHY: Sexual imagery has always existed, from the earliest time that humans were able to create drawings or write words. One definition of the word pornography suggests that it originally depicted, through words and drawings, the life of prostitutes. Since the many definitions are not consistent with one other, there is not just one story of its history. But most will agree that in order to be considered pornographic, the words and/or images have to be illegal or illicit, as opposed to any culturally accepted erotic material. This can get confusing, of course–as in the recent disagreement over whether the Statue of David is art or pornography. 
Some form of sexual imagery has been around forever, though the functions of such imagery have changed over time. It is for this reason that I want to focus on the purpose(s) it serves today, in modern sexuality and relationships, and what happens when it is the cause of conflict between relationship partners. 
GOOD OR BAD? RIGHT OR WRONG? IT DEPENDS: In my work with couples, I avoid using the words good, bad, right, or wrong. I do this so that I am not imposing any moral judgements on the actions of my clients. What I personally think about their actions is none of their business, unless they are a danger to themselves or another. But what they think about themselves is definitely my business, since this is often the internal conflict bringing them into my office!
In order to create a non-judgmental space where we can explore problematic behaviors and move towards understanding, compassion, and a plan for change, I focus simply on whether the behaviors are working or not working for the client. How do I do this? Well, I let them tell me! What I have found is that this determination depends on clients' values: what is important to them and what gives their lives meaning.
There is a therapeutic saying that goes like this: "It's not a problem unless it's a problem." If we apply this approach to porn, then the following question will come up when it is presented as a problem: Does your porn usage have a negative impact on your health, work, finances, or relationships? A "yes" answer in any of these areas of impact lets me know that, in that area or areas, porn is not working for them, and we have to take a deeper look. 
The bottom line is that in order to do my work, I have to set aside any moral judgement and find out what matters to the clients, and what is getting in the way of them moving towards that. But if you want my personal opinion, here it is. Porn is not bad or wrong, it is instead a way to feel connected–to our sexuality, to our aliveness, to our eroticism, to sex, to ourselves, to another. It is a way to connect to the moment when our head is spinning from the workday. It is a way to connect to a fantasy world where we are not old or sick or tired. It is a way to connect to our imagination. It is all these things, and more.
***
For clients who report that it does not work for them in their relationships, I have to first find out what meaning each partner assigns to it so I know what the real conflict is (porn as the vehicle, not the destination). For example, a user might be watching porn in order to connect to their own erotic life. This can happen after an illness or surgery, after giving birth, or during a period of grief or depression. They might also be using it to find out more about their sexuality or sex in general–we are often not even sure what turns us on! 
Next, I look for areas where the couple is actually fighting for the same thing—shared values obscured by conflict. This is not as hard as it sounds. Who doesn't want to feel any one of the connections I listed two paragraphs up? Where there is conflict about porn usage, the work is about helping the couple to talk about, and understand, differences,  so they don't feel threatened by what is not familiar to them or not what they like. 
Finally, I help them to find a compromise that involves the relationship winning rather than one individual or the other. Any successful compromise will ask that each partner be willing to give up some of what they want so that they both win. This is why I have previously written about the importance of putting the relationship first–if you don't, then you will fight to win rather than to connect. 
A compromise like this will increase closeness because it requires that couples talk to one another to increase mutual understanding of differences, which often reveals that they are not that different after all. Though porn may not be a familiar vehicle for some, some of the needs it meets are universal to all of us. A recognition of this commonality can turn fear, judgement, and resentment into compassion, understanding, and closeness. 
HOW TO NURTURE YOUR RELATIONSHIP WITH OR WITHOUT PORN: If porn is a way to feel alive, sexy, desirable, and vibrant, then it is good to know that it is not the only way! In a society where sex and self-pleasure are often associated with shame and guilt, it is my opinion that porn provides a safe way to avoid the finger-pointing of others–this is why it is usually viewed in private. Porn does not have to be a private enterprise–but the use of it is not usually celebrated publicly. It may be seen as a weakness, or a guilty secret. 
But if you don't want to be shamed for something, it helps to not engage with it shamefully! This is why I encourage couples to bring the topics of sex, sexuality, sensuality, turn-ons, and turn-offs into their discussions together. One of the great benefits of creating a relationship together is that it is an opportunity to create your own personal culture, and if you grew up in a sex-shaming community, you don't have to carry that legacy into your own home. The irony is that when couples are willing to talk to each other about their needs, it strengthens what many call "traditional family values": commitment, fidelity, and trust! 
So whether you use porn or not, my recommendation is that you learn how to talk to your partner about your inner erotic world. Sharing porn preferences with one another is only one way to express turn-ons, but not the only way. A skilled couples and sex therapist can help you to navigate these conversations, but there is absolutely nothing wrong with saying to your partner: "I want to be able to talk to you about sex and desire, but I don't know how and I feel shame even brining it up."
Sometimes the best first step is admitting, and expressing, what is going on with you in the moment. Remember that sharing vulnerability invites shared vulnerability. This is how a relationship is nurtured. 
***
I am encouraged seeing the reduction of the stigma attached to porn, due primarily to its increased availability online–no longer do magazines have to be hidden under the bed and in closets! I have hope that this accessibility motivates couples to more openly discuss topics that used to be considered private. The reason for doing so is this gives our partners valuable information about the activities, fantasies, words, and thoughts that take us out of our heads and into our bodies and pleasure centers. While our private inner world will always be a place to enjoy oneself in acts of self-pleasure, there are valid and enticing reasons today for inviting a loved one inside to join you: heightened pleasure, trust, connection, and discovery. 
Ethically produced porn itself is neither good nor bad–it depends on the meaning assigned to it. If porn is a problem for you in your relationship, start by questioning the purpose it serves you or your partner, and asking if that purpose fulfills not only the user's needs, but also the needs of the relationship. If the answer to the latter question is "yes", then by all means, press "PLAY"!