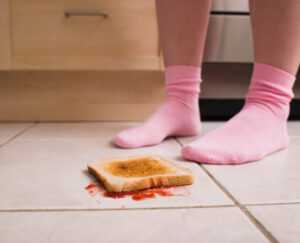 What is it about problems in relationships? And why do they tend to show up after we have already become attached and committed to the other? Is the universe out to get us after all? Is there any way around them? What can we do about them? When do we know if they are "deal-breakers"?
These are just some of the questions that come up, not only in my office, but also among my friends. After all, it does seem like a cruel joke at times–we meet someone who seems perfect, until they aren't. Sadly, I see people making inaccurate and painful conclusions about themselves when this happens, such as "I always choose poorly", or worse, "I am such a loser".
Negative conclusions like these are inaccurate because they don't describe what is really going on when two people have been together for a while.  While it's true that sometimes we choose partners poorly, it is not because we are broken in the choosing department. Additionally, these conclusions about ourselves often keep us from staying in a relationship where we can actually heal interpersonal wounds; we end up breaking up when we don't need to.
So what do we do about problems when they show up? How do we know when to walk, and when to stay and work on them? To answer this, we need to first understand what they are and what they are not…
WHAT THEY ARE–DIFFERENCES: John and Julie Gottman's extensive research on couples has shown that, shockingly, 67% of problems in relationships are perpetual, or "unsolvable". And yet despite this, many relationships do just fine! So what is an unsolvable problem? In the simplest terms, unsolvable problems are differences between two people that most likely will not change. For example, when one likes to sleep in until noon while the other rises at the crack of dawn.
Just because a problem is unsolvable does not mean that couples can't find a way to live with it. Acceptance is the marker of real love, where two people are able to be both members of a couple and individuals while remaining connected. Acceptance is also a signal that you have healthy boundaries, where you are not expecting the other to be responsible for how you feel about their differences.
Accepting another's differences does not mean we agree with them or even like it, just that we acknowledge that they are there because our partner is a separate person from us. They are not us! This can be a difficult transition to move into if you started your relationship in a strong state of symbiosis, or infatuation, since during this time our partner seems perfect to us. But it is also a necessary part of moving toward real love, the kind of love that sustains good times and gets you through bad times.
A problem that arises from "differences" is not the same as a problem that results from unloving, dismissive, or disrespectful behavior. The latter cannot be chalked up to differences because they are behavioral choices.  Those are "solvable problems" because they can be eliminated if the couple is able to talk about them constructively. They only become "unsolvable" if partners refuse to change, and are unwilling to accept things as they are.
The challenge is telling the difference between these two types of problems because each needs to be responded to differently. Too many couples lump differences in with bad behavior, and this is why there are unnecessary breakups. Curiosity in each other is the tool that helps you to tell the difference between what is solvable and what is unsolvable.
WHAT THEY ARE NOT–DEAL BREAKERS:  I have written about deal-breakers before, and when you know that you need to leave a relationship. The good news is that most problems, both solvable and unsolvable, are not deal-breakers! As mentioned in the previous section, they only become deal breakers if you are not able to talk about them or come to understand differences so that you can accept it and live with it.
Living with a difference does not mean lowering one's standards, rather it means deciding to see someone as a separate individual, different than you, in a realistic light. It is bringing the standard down to a realistic level, instead of expecting that our partner meet our every need and never disappoint us. Just because I don't believe in Santa Claus anymore doesn't mean that I don't thoroughly enjoy Christmas! In the same way, accepting differences can allow you to enjoy your relationship in a more adult manner while also practicing self-care that is your responsibility.
When I hear about marriages breaking up over "irreconcilable differences", it makes me sad, because the divorce is likely unnecessary. I often suspect that the couple just didn't know how to talk about differences.
WHAT TO DO ABOUT THEM: You will notice this article focusing on differences, and you may be asking yourself, "Wasn't he going to write about problems?" Yes, I was, and yes, I am. The point I hope to make is that too many couples try to change unsolvable problems while ignoring solvable problems. This makes sense because it is easier to imagine changing a difference than talking about a real problem. Talking about problems works, but it is not easy, as it requires trust, safety, and vulnerability. Differences usually just trigger misunderstanding and fear, while a real problem brings up more difficult emotions: feelings of sadness, abandonment, betrayal, and disrespect.
If you want the simple blueprint on how to improve your experience with your partner, I suggest the following:
Decide what is solvable and what is unsolvable.
Get curious about the unsolvable so that you can better understand the difference and respond more mindfully and intentionally.
Talk about the solvable problems by telling your partner how you feel when the problem happens–don't criticize! You can also show some curiosity as to the purpose of their behavior. Make a request of your partner if you need to.
Explore healthy compromise around unsolvable problems, where you work as a team to find a middle ground that both of you can live with and accept.
The above guidelines may require the help of a qualified couples therapist, but if done well, you will get the information you need to make decisions about the future of the relationship. You will either stay together because you are a good match, or you will break up because you have identified something that you just cannot live with. Either way, your decision will be an informed one.