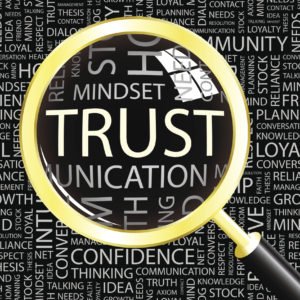 TRUST is a word that comes up often in couples work.  In fact, it usually comes up the first time I speak to prospective clients on the phone.  Why is this such a loaded word? Well, perhaps that is because so much weight is put on trust in relationships.  But what is trust?  Everyone has their definition, but my favorite is that trust is a belief.  It is the belief that your partner is on your side, they have your back, they are going to be honest with you and hold the relationship as lovingly as you do.  But how do we arrive at this trust? And what validates it?  Why is it so often weakened?
Initially, it seems that trust is established by whatever first attracted one to another: physical attraction, shared interests, common friends, shared profession, shared experiences, etc.  Early on, we "decide" that we are safe in this person's company, and we often come to that decision without having very much information at all.  We base our decision on a "feeling" about this person, and that feeling can be based on simple attraction but often includes one's behavior and response-ability.  We "trust" that this person wants to be with us as much as we want to be with them, is attracted to us as much as we are to them.  We want to believe this, sometimes we need to believe this. But what happens after the initial infatuation has passed and we find ourselves with someone who may, in reality, have a little tarnish on their armor?  Conflict can set in. Vulnerability gets withdrawn, Lies can develop and the relationship "team" can split.
With gay couples, there is often the added factor of competition that can have an effect on two men or two women acting together as a team.  And with gay men, you cannot discount the continuing influence of a freer sexual environment and its effect on a couples' desire to be monogamous.  If the couple is not monogamous, by choice, then trust has a whole new list of potential obstacles.
All of these factors, and more, must be taken into consideration in any work involving gay couples and trust.  On an encouraging note, I have found that gay couples are often more forgiving around trust violations than heterosexual couples, and they also better recognize the fluidity of sex, relationship, and love. With this in mind, I like to look for ways in which the couple is already successfully challenging cultural obstacles, and then we can explore if those same strategies could work with inter-personal struggles.  Trust is sometimes easier to re-establish with gay couples because the framework around it is looser–though this does not lessen its importance.
I like to approach trust from a teamwork perspective.  It can be thought of this way:  if two people are on a rowboat, they can either both row in the same direction, or they can row against each other.  Discussions around the issue of trust often result in two people rowing in the same direction again, recognizing that they both would like to arrive at the same destination.  Trust is the belief that this destination is in the best interests of both the relationship and the individuals involved in the relationship. Without it, you are worse off than if you had no paddle at all.  With it, you can often get anywhere you want to go.