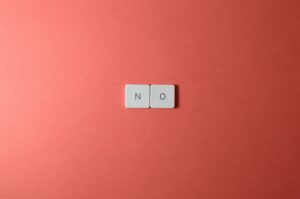 No! This is one word that most of us hate hearing (and sometimes have a hard time saying!). But why is that? What is threatening about being denied what we want, ask for, or need? And what makes it difficult to say "no" to others at times?
Clients often tell me they don't like rejection, making me curious to know what they mean by "rejection". A quick Google search defines rejection as the dismissing or refusing of a proposal, idea, etc. When put that way, it doesn't sound so bad, does it? I don't think this is the type of rejection that most people avoid, however, instead it is the type that feels like a dismissal of them, not just their proposal or idea.
I explored this with a client recently, where a rejection of physical affection from his spouse left him feeling like she found him disgusting and revolting. This was not the case, actually. In reality, he was feeling insecurities he had carried for a long time. They were triggered by her rejection. How does this happen? Should partners never reject requests from one another, and avoid being rejected by the same? Is it really better to live in a world of "yeses"? Can rejection have benefits for a relationship? Is there such as thing a "healthy rejection"?
THERE NEEDS TO BE ROOM FOR "NO": Our culture has gone through enough shifts in the past several decades that one could get whiplash trying to keep up with the changes! We have gone from celebrating individuality to nesting relationships to insisting that all children have an equal experience in life to marginalizing kids who are gender non-conforming. What are we going for here? Well, it depends on who is in charge, or who is hoping to be in charge, it would seem.
Relationships are not immune from the cultural shifts, and this is why I work with couples to ensure they are making mindful, conscious choices about what does and does not work for the relationship. One of these key choices is whether or not there is room for "no", or rejection, between them. Why is this important to decide?
It is important simply because rejection is an unavoidable part of life, whether you are single or with a partner. Even if you live alone in the woods, there are times when nature will tell you "NO!". This is not a problem for those who have been raised securely with a sense of healthy interdependence, boundaries, and a focus on resilience. But for those who missed out on one or more of these elements, a no can feel like abandonment or parental rejection.
This is why parents are strongly encouraged to not give their children everything they ask for when they ask for it, in order to not protect them from all disappointment or sadness. This is not cruel, it is parenting, which is not just keeping your children alive, but also preparing them to be healthy adults.
ENCOURAGES HEALTHY BOUNDARIES: Why is there so much importance placed on boundaries? Are they good or bad for us? Our confusion over this can be seen not just in relationships, but also in our national immigration policies!  This is because what is good for one may not be good for another.
So what then is a healthy boundary? It is setting a limit or a line that benefits both the individual and the relationship, not just the person setting the boundary. Boundaries give us information about what someone can and cannot live with, so it is essential that partners are capable of accepting that some of their behaviors will be rejected by the other. 
Parents have the job of setting boundaries that protect their children and teach them that there are limits and agreements that go along with living with, and around, others. Not yelling "FIRE" in a crowded theater is a sort of boundary that most of us accept without thinking too much about it, because we know that we all benefit from respecting this boundary.
A boundary is a form of rejection simply because it tells someone "no" regarding certain behavior or words. A healthy boundary is a respectful way to say "no"! We could not function very well in relationship without information about the other's limits! Healthy boundaries protect and support the relationship, banning actions that could weaken a couples' connection or trust. When used this way, rejection and acceptance go hand in hand to serve and strengthen relationships.
EXPOSES NEEDS THAT WON'T BE MET: Boundaries take care of the individual, but they can also serve to take care of the relationship, as I have discussed in other articles. They do this by identifying, and protecting, needs that are not necessarily going to be noticed or attended to.  Rejection is the process through which one lets another know what boundaries they cannot, or will not agree to.  Rejection can be seen as a boundary response to a boundary.
What your partner can and cannot agree to is vital information to know! While it can feel as though rejection is not loving, another way of looking at it is that, when done respectfully (discussed more below), it can be one of the most loving things we can do! This is because it encourages 1) practicing honesty with each other, and 2) trusting that your partner can hear and handle a "no" response.
Without any room for rejection, partners in a relationship will never really know what needs are not going to be met, because most likely these needs won't even be expressed! Without that knowledge, how can we make decisions about whether we should get the needs met elsewhere?
I once read a useful approach to relationship needs, which said that we place too many of them on our partners, when many of these needs could be met either by ourselves or by an outside person. The book, The All Or Nothing Marriage, breaks relationship needs into three categories:
Needs we can only meet through our partner
Needs that we can meet through partner or other
Needs that we can meet through partner, other, or ourselves
It is healthy to diversify our needs, because this keeps the relationship from carrying all the weight, helps us to not be completely reliant and learn how to take care of ourselves, and also encourages outside engagements. Rejection, along with acceptance, are the tools we need to do this.
HOW TO DO IT WELL: Fortunately, there is a very easy way to express rejection. You simply have to do it respectfully. This means that rejection cannot be a judgement of the other person or their interests, merely a rejection of them. An example would be:
Wrong Way: "No, I don't want to go to that movie with you–you have terrible taste in films!"
Better Way: "No thank you, I would rather not go because I am not really interested in seeing this film. Let me know if it is any good!"
A respectful rejection succeeds because it does not discourage others from making suggestions. A judgmental rejection will cause someone to think twice about making a request in order to avoid feeling badly about themselves. Respectful rejections are easier to give for those who have worked on having compassion, gratitude, humility, patience, and empathy, since these are elements that foster curiosity of others instead of fear.
Conversely, receiving rejection can take a bit more work to get better at. If you are triggered into feeling badly about yourself every time someone tells you "no", it is important to work with a good therapist to look for any negative beliefs you may have. Any rejection, even a respectful one, can trigger a person's negative belief about themselves, such as "I am not interesting", or "Nobody likes me." If these are not dealt with, you will do anything to avoid rejection, including becoming a people-pleaser. Your relationship will not thrive.
Ultimately, the ability to respectfully give and receive rejection is a matter of emotional maturity and development. A relationship that allows for acceptance and rejection will be more authentic and free of resentment and secrecy. Rejection is your way of simply saying "no": setting a boundary around what you can or cannot accept. If you truly value honesty in your relationship, make sure you can say "no" to each other. You will come to see that rejection, rather than being an unpleasant thing, is really just the other side of acceptance–and that you can't have one without the other!